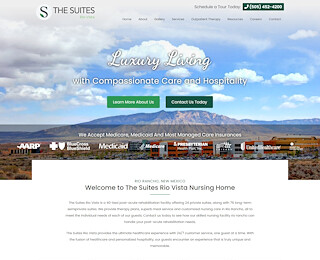 Do you require a rehabilitation center in Albuquerque? The Suites Rio Vista is the perfect place for you to heal and recuperate.
Why Do I Need A Rehabilitation Center?
There are several reasons you may need or want to choose a rehabilitation center to recover from severe surgery, injury, or condition. You must receive the best ongoing aftercare you can. Your recovery will be monitored closely, and if there are any complications, they will be noticed by the skilled nursing staff.
It is always better to catch something that could become a problem at the earliest possible stage. If it is a wound that isn't healing correctly, or maybe you develop an infection, it is easier to treat issues in the early stages.
Each patient is different and requires a specialized plan to help their recovery. The goal is to return your independence and allow you to have the best possible outcome. If you need to receive inpatient rehabilitation, it merely means you need to remain at a facility while you are receiving the care you need. Choose a rehabilitation center in Albuquerque that meets your needs, and you find appealing.
What Types of Conditions Require Inpatient Rehabilitation?
Several conditions might require some form of inpatient rehabilitation.
Amputations
Brian Injury
Hip Fractures
Major Multiple Trauma
Neurological Disorders, MS, Parkinson's Disease and muscular dystrophy
Some Arthritis
Spinal Cord Injury
Stroke
You might require short term rehabilitation if you live alone and have had major surgery such as a knee or hip replacement. Different circumstances mean different solutions. If you have any of the following problems, you may need to consider inpatient rehabilitation:
Impaired coordination, mobility, and balance
Limited motion, joint strength, and limb weakness
Memory thought processing, reasoning and rational thinking
Self-care limitations
Speech and communication problems
Swallowing disorders
There are certain times that inpatient rehabilitation is your best option. You will receive the care you need by professionals.
How To Choose A Rehabilitation Facility?
If you are looking for a rehabilitation center in Albuquerque, you will want to find the facility that will meet your needs. Here are a few questions to ask yourself:
Do the physicians at the facility prescribe therapies for specific services?
How qualified is the staff and is a 24-hour service provided? Check to make sure the nursing staff has registered nurses that are certified in acute patient care and rehabilitation nursing.
How do they develop your treatment plan?
Will you receive at least three hours of therapy five days a week?
What other types of services do they offer?
Are patients assigned a case manager or social worker that will help coordinate the services required?
Do they encourage family participation?
The facility you choose must meet your needs. The goal of any rehabilitation program is for you to regain as much independence as possible and return to a healthy lifestyle. Even if you are required to make adjustments, your freedom is crucial.
Contact The Suites Rio Vista today, and let us help you recover.
rehabilitation center Albuquerque
The Suites Rio Vista
5054524200
2410 19th Street Southeast
Rio Rancho
NM
87124
View Larger Map
We welcome your comments!