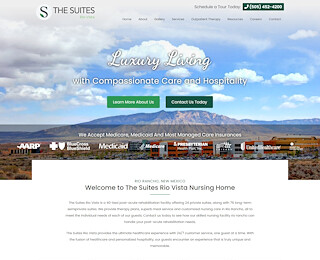 Choosing a high-end nursing home for a loved one can be quite a difficult process. You only want your loved one to be in the best hands possible when you are not there for them. If you are on the lookout for nursing homes in Albuquerque, New Mexico, that offers holistic care, contact us, at The Suites Rio Vista.
How to choose a nursing home
Choosing nursing homes can be a heartbreaking choice to make, but a necessary one. The most important thing to consider is the quality of care the nursing home provides. Do they provide holistic care? Do they consider all aspects of caring for a vulnerable individual, including diet, medical care, and therapy?
Ideally, the nursing home should provide a diverse range of activities and hobbies. Personalization in nursing home care is an excellent indicator of quality. They should cater to the needs of different patients.
Just as important as the quality of care is safety. These two don't always go hand in hand, even though it feels like they would. A fancy nursing home with all kinds of amenities can still be unsafe. So, ensure you check the nursing home for the frequency of violations and complaints from previous clients.
Where to find information about nursing homes
There are several ways by which you can find out about nursing homes. The best way is to ask around people you trust, like friends and colleagues for recommendations.
There are also great resources online for finding licensed nursing homes in your area. Are you searching for nursing homes in Albuquerque, New Mexico? Contact us.
You can contact local organizations such as the Center for Medicare and Medicaid Services, or your state's Ombudsman program. You could also try your local branch of the health department for info.
What qualifies someone for nursing care?
Determining if your loved one qualifies for nursing care under state laws is very important, especially when it comes to your insurance coverage and Medicaid funding. If your loved one can't care for themselves on their own, without assistance, or would be a danger to themselves if they did, then they should be eligible for the Nursing Home Level of Care.
The requirements for the Nursing Home Level of Care (NHLOC) vary from state to state. Usually, most states require someone to be unfit in more than one way. For example, if they have both memory problems and difficulty moving around, they would qualify for NHLOC.
The nursing care services we provide
We aim to deliver a truly holistic nursing care experience. We provide therapy for all kinds of conditions, expert dieticians are on site, and we offer a diverse range of activities. You can find out more on our website.
For example, we offer physical and occupational therapy to help vulnerable individuals improve their mobility. We also provide speech therapy to help improve their cognitive functions. We offer cardio and pulmonary therapy for individuals with heart or lung conditions.
Are you searching for nursing homes in Albuquerque, New Mexico? The Suites Rio Vista offers holistic, personalized nursing care for your loved ones.
nursing homes in Albuquerque new mexico
The Suites Rio Vista
5054524200
2410 19th Street Southeast
Rio Rancho
NM
87124
View Larger Map
We welcome your comments!