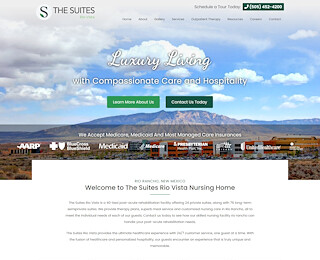 The Suites Rio Vista is one of the top-rated nursing homes in Albuquerque that offers a comfortable stay for seniors in a safe and serene environment. We also offer respite care, memory care, and other specialized services with a team of highly experienced clinical staff.
Is home care cheaper than a nursing home?
Nursing homes offer 24/7 medical care and are one of the least expensive options. The cost of quality care at a nursing home can cost anywhere from $40,000 and $200,000 per year depending on the amenities, services offered, and the location.
On the other hand, the basic level of home care can range between $15 and $25 per hour. Home care involves offering basic services like housekeeping, cooking meals, medication supervision, etc. While aging in place sounds like a reassuring option, it may not be the most viable option for elders suffering from a medical condition or illness. A nursing home is a safer place with special accommodations for seniors and encompasses a team of compassionate clinical and non-clinical staff to help them lead an enriching life.
Speech therapy for treating dementia
Dementia is a medical condition that impairs an individual's cognitive functions like speech, attention, memory, etc. This can cause patients to feel disoriented, confused, and lead to depression. We are one of the few nursing homes in Albuquerque to use speech therapy to improve the quality of life of patients who have dementia.
It stimulates a senior's cognitive abilities, improves their communication, and protects their speech and language function. Furthermore, our speech therapists train our stroke patients and elders suffering from memory loss on how to eat, swallow, and drink safely without choking.
Respite care for the elderly
Respite care for the elderly is a type of short-term assisted care when the caregiver needs a break. Nursing homes, Assisted living communities, and home care services are some of the options that offer respite care. But if your senior suffers from a medical condition, you must choose a facility that has a 24/7 registered physician and offers special accommodations to meet the unique needs of its residents.
At our nursing home, we offer the best respite services along with memory care, rehabilitation services, and restaurant-style dining options in a luxurious setting. We also plan team excursions and other life-enriching activities for the elderly, to make sure they don't miss home during their stay in our facility.
Specialized diet for bariatric patients
We plan, and supervise gastric bypass diet for our bariatric patients to help them attain healthy weight loss. We also involve them in an active lifestyle to help them attain weight-loss goals. Furthermore, we make sure to protect our patients from diet-related risks like dehydration, dumping syndrome, constipation, etc.
Contact us for more information on our private suites and prices. The Suites Rio Vista is one of the leading nursing homes in Albuquerque for the elderly with a 24/7 registered physician, a registered dietician, massage therapist, and a wound care specialist.
The Suites Rio Vista
5054524200
2410 19th Street Southeast
Rio Rancho
NM
87124
View Larger Map
We welcome your comments!